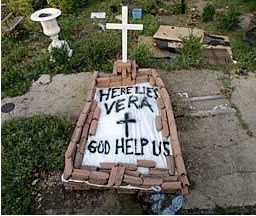 Just a little less than a year ago, I attended a lecture given by
Sister Helen Prejean
, author of the book
Dead Man Walking
. She travels the country speaking out against the death penalty, and she spoke at a Catholic church in East Memphis.
This was just a few short weeks after water topped the levees in her adopted hometown and laid it waste.
"The miracle of Hurricane Katrina" she said, choking up slightly, "is that it ripped the veil off of George W. Bush's attitudes about the poor." It was hard to argue with that. In fact, if any argument was to be made at all, it was that George W. Bush's attitude was tucked under the flimsiest of veils, a tiny cloth that always seemed in danger of slipping off to reveal the true hideousness beneath. It was only a few days after the First Mother said rather cheerily in a "let them eat cake" moment that many of the people affected by the tragedy were poor anyway, so it "worked out well" for them. New Orleans was everything that George W. Bush was ill at ease with. It was sexy, spicy, and dangerous, but in that good way--- She's the girl that you know you can't take home to mother, but you'll have a great time with her until the bed breaks.
And most of all, it was black. It was full of working class people, jazz musicians, practitioners of strange religions, women who bare their breasts for cheap trinkets tossed at them--- Definitely not the kind of people you find in Kennebunkport unless they've been hired to clean someone's pool.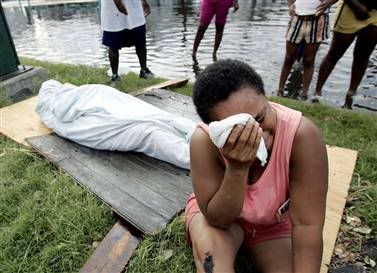 The official line was that the president had no idea it was coming. You'll recall this excuse worked rather well for him on 9/11, at least until the commission established years later that he had ignored numerous warnings. It wasn't until April of this year, after mud and feces stunk up the streets of a major city for eight months that the video establishing that he did in fact know was leaked.
The phrase "Heckuva job, Brownie" has become something of a catchphrase in the last year, even making it into an episode of "The Sopranos" when Paulie Walnuts colossally screwed up something as simple as setting up a merry-go-round for a street fair. It's fairly indicative of what Sister Helen talked about--- While 30,000 languished inside the Superdome (A building designed only to house people long enough to watch the Saints lose) with only 36 hours of food, the ultimate do-nothing federal government was patting itself on the back for a job well done.
Not that "Brownie" was the only one that screwed up. He was the most glaring and obvious (Gee, who could have ever thought there could be negative fallout from hiring a horse show judge to manage national emergencies?), but there was a catastrophic failure throughout the federal government.
The right wing noise machine tried to shift the blame to Ray Nagin by using an aerial photo of the New Orleans School Bus facility and spreading the rumor that 2000 school buses sat unused.
This link
goes to probably the best debunking of that myth that I've yet found. They tried to shift the blame to Kathleen Blanco by saying that she hadn't requested aid soon enough,
words that they soon had to eat
.
At the end of the day, it comes down to this. No one has the resources at the disposal of the federal government. Should Blanco have deployed the National Guard? Sure. But they weren't available because some raging fool sent them on the Great WMD Snipe Hunt, along with much of the heavy equipment assigned to the Louisiana National Guard. Turns out that some of the same equipment that helps you clear mud and trees out of city streets is also good for pulling wreckage out of the new democracy built in Baghdad.
Was Ray Nagin's performance good? Of course not. When your city is built on the same design principle as a soup bowl partially submerged in a bathtub, you do not piss around when it comes to ordering evacuations. Was Blanco's performance good? I've heard conservatives say it wasn't, but I've yet to see one offer anything tangible that could have or should have been done better.
But the federal government failed so thoroughly that the stench of failure hangs over the Potomac the same way the stench of mud and shit hang over New Orleans. FEMA was saying they couldn't make it in safely, but Sean Penn found a way. So did Harry Connick, and come to think of it, even the rough-and-tumble Al Gore managed to get into the city before FEMA did. When the federal government was pretending it was unsafe to go into the city, Anderson Cooper was wading in knee deep water.
When this nation was attacked on September 11, 2001, the federal government not only managed to put together a plan (The last actual plan ever devised under Bush), but managed to put together an international coalition and fly the 6,750 miles to Afghanistan in time to put special forces in and start shelling on October 7. Twenty-six days. Clearly, the federal government can manage a brisk pace when they feel the need.
It took two to get to Louisiana, where lives hung in the balance, where every moment that passed made a rescue scenario less likely and a recovery scenario more likely.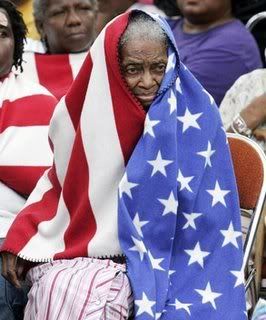 When "children of a lesser god" are to be killed, George W. Bush rushes in. When "children of a lesser god" need to be saved, there's always something else to do. In this case, the end of a vacation, a photo op with John McCain's birthday cake, and playing air guitar with Mark Wills all took priority, just as trout fishing took priority over a memo called "Osama bin laden Determined To Strike Inside the United States" four years earlier.
And what has happened in the year since then? We're no closer to rebuilding New Orleans than we are to rebuilding Iraq.
Perhaps that's because the checks for both of those projects are deposited into the same bottomless bank account
.
As different as they are, there's one stark similarity between 9/11 and Katrina. I remember being told that Osama bin Laden was "wanted dead or alive" just as clearly as I remember being told during a speech in Jackson Square that George W. Bush was ready to "do what it takes". He still has that same lack of follow-through, which at least partially explains his torpedoing of Representative Richard Baker's (R-LA) bill to allow New Orleans homeowners to recover 60% of the values of their homes (Which seems 40% shy of a fair deal, since we've allowed insurers to default on paying the claims without consequence).
For those people who voted for George W. Bush and cite "security issues" as the reason for it, the time has come for you to face the music.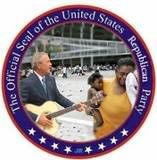 Do you want to see what a catastrophic attack on the United States would look like? Look at New Orleans. New Orleans is how ineffective this government is with close to a week's advance warning.
How bad would it be with no warning at all?