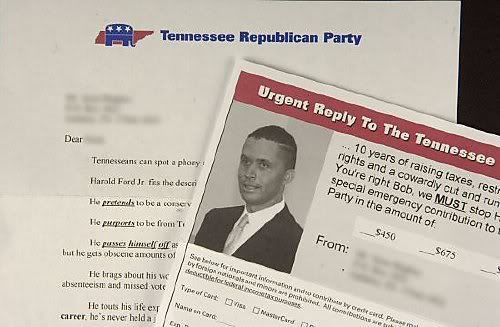 "They have darkened Harold Ford's image to make a racist statement," Tennessee Democratic Party Chairman Bob Tuke told the
Knoxville News Sentinel
in reference to the photograph of Representative Harold Ford Jr. (TN-9) used in a recent piece of direct mail distributed by the Tennessee Republican Party on behalf of the Bob Corker Senate campaign.
The campaign literature in question features a very dark image of Harold Ford Jr. next to a solicitation of "emergency contributions" for the Corker campaign.
The image in question is an edited version of a photograph taken on June 29, 2004 when he met with the staff at Baptist Hospital to discuss healthcare issues.
The original photograph can be found on Rep. Ford's congressional website
.
Tennessee Republican Party Executive Director Chris Devaney told Tom Humphrey of the Knoxville News-Sentinel that the photograph "was not enhanced in any way".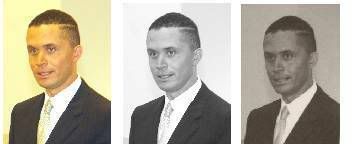 The three photos to the left are three different versions of the photograph in question. The one on the left is a
cropped version of what is on Rep. Ford's congressional site
. The one in the center has had the color removed via Photoshop. And the photograph on the right is the version that ran in the TN GOP mailer.
See the full story at the
River City Mud Bugle
website.