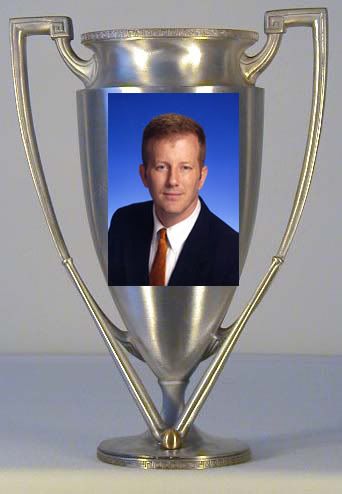 So the idea that the Nevada Democratic Party would even consider allowing Fox News to sponsor their debate is about as wise as holding a Narcotics Anonymous meeting in a crack house.
Of course, like a good massage, this story has a happy ending.
John Edwards was the first out of the debate, and it was the smart thing to do. Fox News will spend enough time trying to stick a foot in the ass of every Democratic presidential candidate--- Edwards simply chose not to bend over and make it easy for them.
There are two things about that joke that make it noteworthy: 1) The joke was at the expense of President George "Duhbya" Bush, not Barack Obama. 2) He stole the joke in the first place.
So, for piling questionable judgment on top of questionable judgment, I hereby give the coveted Golden Campfield Award to the Nevada Democratic Party.